Furniture (Blue/Yellow Letters) Feather Windless Flag Kit
• Kit includes everything you need to set-up your banner flag and start promoting your business.
• Windless design is meant to free flow with the wind, while the full sleeve allows maximum visibility even without wind.
• The Flag is highly visible at 11.5 feet tall!
• Material is a knit polyester which allows a longer lifespan than other banner flags.
• Our new Hybrid Poles are made to fit all our banner flags including custom banner flags.
• Flag kits now include a powder-coated heavy ground mount stake that is invisible when the pole is placed over the top.


We also offer additional Hardware Options
You may also be interested in the following product(s)
Details
Details
Slight color variations are possible due to the individual computer screen differences. Slight color variations may also be present in each individual flag during printing.

Flag Life - the expected lifespan of each flag may differ but usually last between 3-6 months. Custom banner flags may last a little longer. Flags are susceptible to outdoor weather damage which include fading, discoloration, sun damage, etc. Typically, flags should be replaced every few months for maximum exposure. We offer replacement flags without the kits to easily reorder when needed. Weather conditions, handling and location of flag all contribute to the actual lifespan and may vary.

Caring for your flag and other useful information:

Bringing your flag in at night tends to preserve the lifespan. Heavy winds or severe thunderstorms may also damage the flag, and bringing the flag in under these circumstances may also be an option to consider.

• Flag is "back side reverse" - printed on one side with 75-90% print through on the reverse depending on color.
These are still considered one-sided flags, but can be read from either side.

• Machine Printed – All our flags are screen printed by machine. Slight color variation may occur.

• Shading -Our flags are designed to be viewed at street distance. Some designs have black shading that looks like a bad print job up close. These are a purposeful part of the design and not printing errors.

• Some cities forbid this type of advertising. Please check with your local government agencies before
purchasing.

• Returns. We do not accept returns, but if an item must be returned due to our error, it must be unused and in new condition. We do not accept returns on any custom orders. If you receive a damaged product, we ask that you submit a claim through email, along with photos of the damage.
Printing Sides
Single Sided / Print Through on flags is about 75 to 95%. A bleed through is just the amount of ink that is visible to the other side of a single printed flag. In most cases the other side can still be read and serves as more exposure.

Double Sided Printing we will print 2 flags and put them together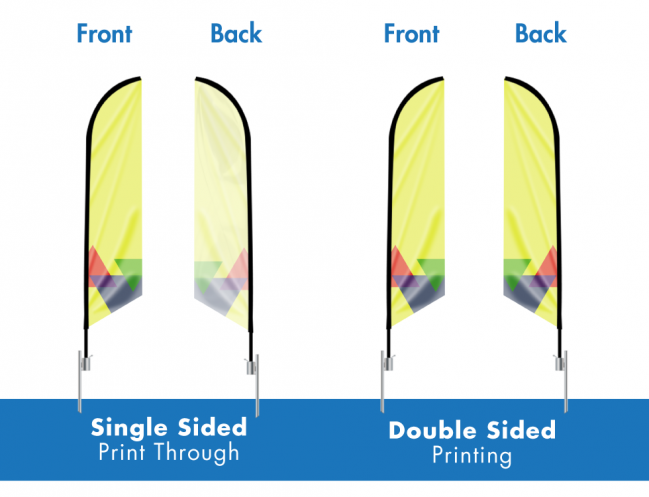 Warranty
We do not offer any kind of warranty except for manufacturer defects. Please submit a claim via e-mail and attach photos when possible. This will allow us to assess the damage quickly and resolve the issue faster.
Feather Banner flags are subject to the hazards of the environment, including vandalism and theft, which is not covered in any way. Please take extra precautions.
Flags have a limited life span of 3-4 months, depending on weather conditions.
We will NOT offer any kind of replacement for bent aluminum poles that occur AFTER installation.
Life span of all products may be extended by bringing products in at night and/or during high winds or stormy conditions.
Manufacturing defects are evaluated on a case-by-case basis.

Return Policy
General Return Policy – We do not accept returns except under certain conditions listed here. Used products cannot be returned. Products must be new in original packaging, and must be returned due to an error by Overnight Grafix. We do not accept returns of any kind on custom orders. All custom orders are considered final after printing. All custom orders must be signed off with a proof before the order is submitted for printing. If a custom order is defective, it will be handled on a case by case basis. Custom flags, preprinted flags, and hardware is considered its own separate product and will be returned pro-rated based on the order. We will gladly exchange a product and only charge for the additional return shipping and re-shipping cost.

Custom Flags - Custom Flags are non-returnable. All custom orders are considered final after printing. All custom orders must be signed off with a proof before the order is submitted for printing. If a custom order is defective, it will be handled on a case by case basis.
Additional Info
Additional Info
| | |
| --- | --- |
| SKU | OVG-FBYLFFFK |
| gtin | 841098154523 |
Reviews