CABINETS (Blue) Flutter Feather Banner Flag Kit (Flag, Pole, & Ground Mt)
• Comes with everything you need to mount your flag in the ground.
• Partial-sleeve design allows the flag to flutter in the breeze like a real flag.
• Huge 11.5 foot tall flag!
• Knit polyester for long life.
• Bright colors to attract attention.
• Bold lettering gets your message out.
• Stong Hybrid Pole fits any of our flag sizes and designs.
• Includes a powder-coated heavy ground mount stake that is invisible when the pole is placed over the top..
• Quick and easy installation
Details
Details
-Flag color can differ from what you see on the screen since each screen represents colors somewhat differently.
Also, sleeve color as well as image colors, can change from one printing to another.
- Flag Life -We expect flag life to be from 3-5 months, after that you may want to replace your flag due to wear
and/or fading. We offer great pricing on replacement flags (please make an account when you order to take
advantage of these offers). Life expectancy depends on weather conditions, handling and placement of flags.
Bringing them in at night extends the life greatly. That being said, we have had flags called "new" by customers
that had been out 24/7 for over a year in all kinds of conditions, including high winds and snow.
- Flag is "back side reverse" - printed on one side with 75-90% bleed-through on the reverse depending on color.
See picture on next tab. These are considered one-sided flags, even though they can be read from either side.
- Machine Printed - Because they are screen printed by machine and not by hand we can offer them at these low
prices. Because they are machine printed please expect some variation in color in areas. These are most notable
on the reverse.
- Shading -The flag is designed to be viewed at a distance. Some designs have black shading that looks like it
could be bad printing when viewed up close. These are a purposeful part of the design and not printing errors.
- Not all cities allows this type of advertising. Please check with your local government agencies before
purchasing.
- Returns - When we subsidize shipping, returned products will be charged the balance of our shipping costs
as well as a 15% restocking fee. Product must be in resellable condition (unused). Customer must pay all costs
related to returning the product.
Back-Side Reverse
You can see from the picture that when the letters are run from top to bottom they are fairly easy to read backward.
Many capital letters are the same forward and backward.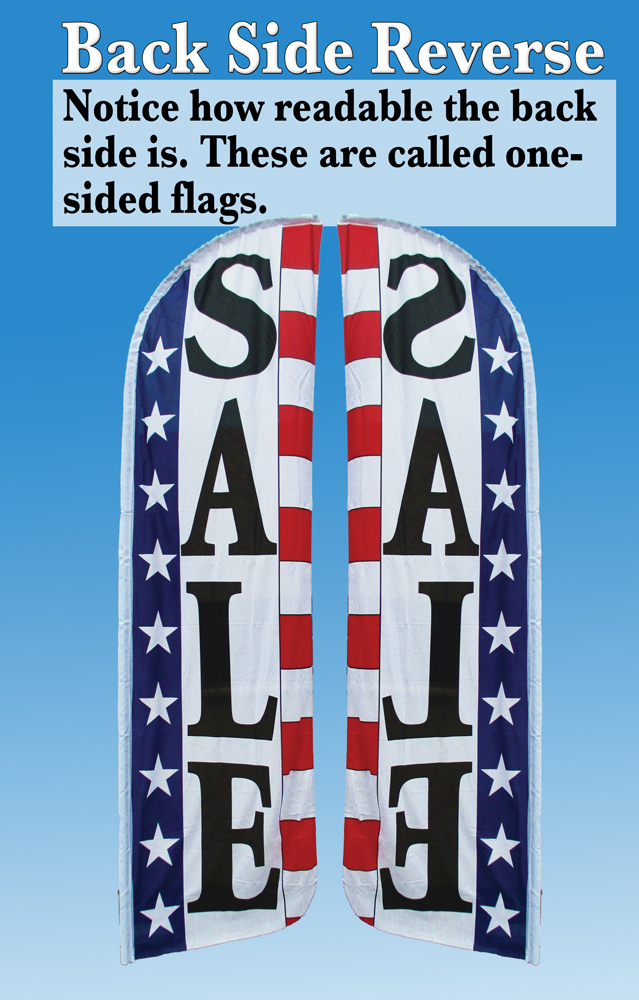 Bleed Through
Bleed-through is the amount of ink coverage flags printed on one side actually get to the other side. Our flags are machine screen printed.
We do lose coverage with machine printing, but it allows us to bring these beautiful flags to you at a greatly reduced cost.
Bleed-through on these flags, because they are machine printed, is about 75 to 95% as you can see from the picture below.
They look great from a distance, which is all that really matters in the end.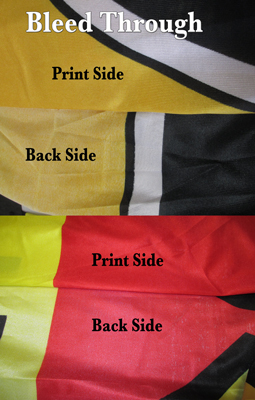 Warranty
Warranty: There is no expressed warranty for Feather Banner Products except for manufacturer defects.
Feather Banner Products are for Outdoor use and are subject to the hazards of the environment, including vandalism and theft.
Flags have a limited life span of 3-4 months, depending on weather conditions.
We will NOT warranty for bent aluminum poles AFTER installation.
Life span of all products may be extended by bringing products in at night and/or during high winds or stormy conditions.
Manufacturing defects are evaluated on a case-by-case basis.
Return Policy
General Return Policy - If we have subsized the shipping, returned products will be charged the balance of our shipping costs as well as a 15% restocking fee. Used products cannot be returned. Products must be new in original packaging.
Custom Flags - Custom Flags are non-returnable.
Additional Info
Additional Info
| | |
| --- | --- |
| SKU | Z0PS0GSS180LC |
| gtin | 841098138073 |
Reviews